2020 Fall Outdoor Registration
---
Season Information
The WLYSA is offering modified soccer activities for a 2020 Fall Outdoor Season. In line with BC Soccer, viaSport, Canada Soccer, and the Ministry of Health, we will be running socially distanced sessions and be able to move into Phase 2 guidelines to allow players to participate in games!
$70.00 per Player
Start Date: Weekend of September 12th/13th
End Date: Weekend of November 14th/15th
Schedule
Saturdays
| | |
| --- | --- |
| U4 - U5 (Born 2016 - 2015) | 9:00am - 9:45am |
| U6 - U8 (Born 2014 - 2012) | 10:00am - 11:00am |
| U9 - U11 (Born 2011 - 2009) | 9:00am - 10:00am |
Sundays
| | |
| --- | --- |
| U12 - U14 (Born 2008 - 2006) | 2:00pm - 3:00pm |
| U15 - U18 (Born 2005 - 2002) | 2:00pm - 3:00pm |
Below is all WLYSA Return to Play Information. Please read through before registering. (Registration link is located at the bottom of this page).
Return to Play Information
As we welcome members back to modified soccer programming, there are several Return to Play information items that members must be aware of and adhere to for the success of our programs. Please take a moment to read through all documents before registering.
Documents for Members
WLYSA Complete Return to Play Plan
New BC Soccer Waiver - May 2020 - This is included in the signature section of the online registrations. You do NOT have to print and hand in this waiver.
Participant Agreement - This is also included in the signature section of the online registrations. You do NOT have to print and hand in this agreement.
BC Soccer Return to Play Information
BC Soccer Return to Play Update - August 24, 2020 - Phase 2 for Soccer
viaSport Return to Sport Guidelines for BC
Arrival and Departure at Esler Soccer Fields
Participants are asked to arrive on the fields no earlier than 10 minutes prior to the practice/activities scheduled start time.
Participants are asked to arrive dressed and prepared to participate in soccer activities. No changing is allowed at the fields. This includes footwear.
Each field has a designated pick up/drop off point for participant sessions. Please refer to the maps below for clarity.
Traffic flow for Lake Excavating Field: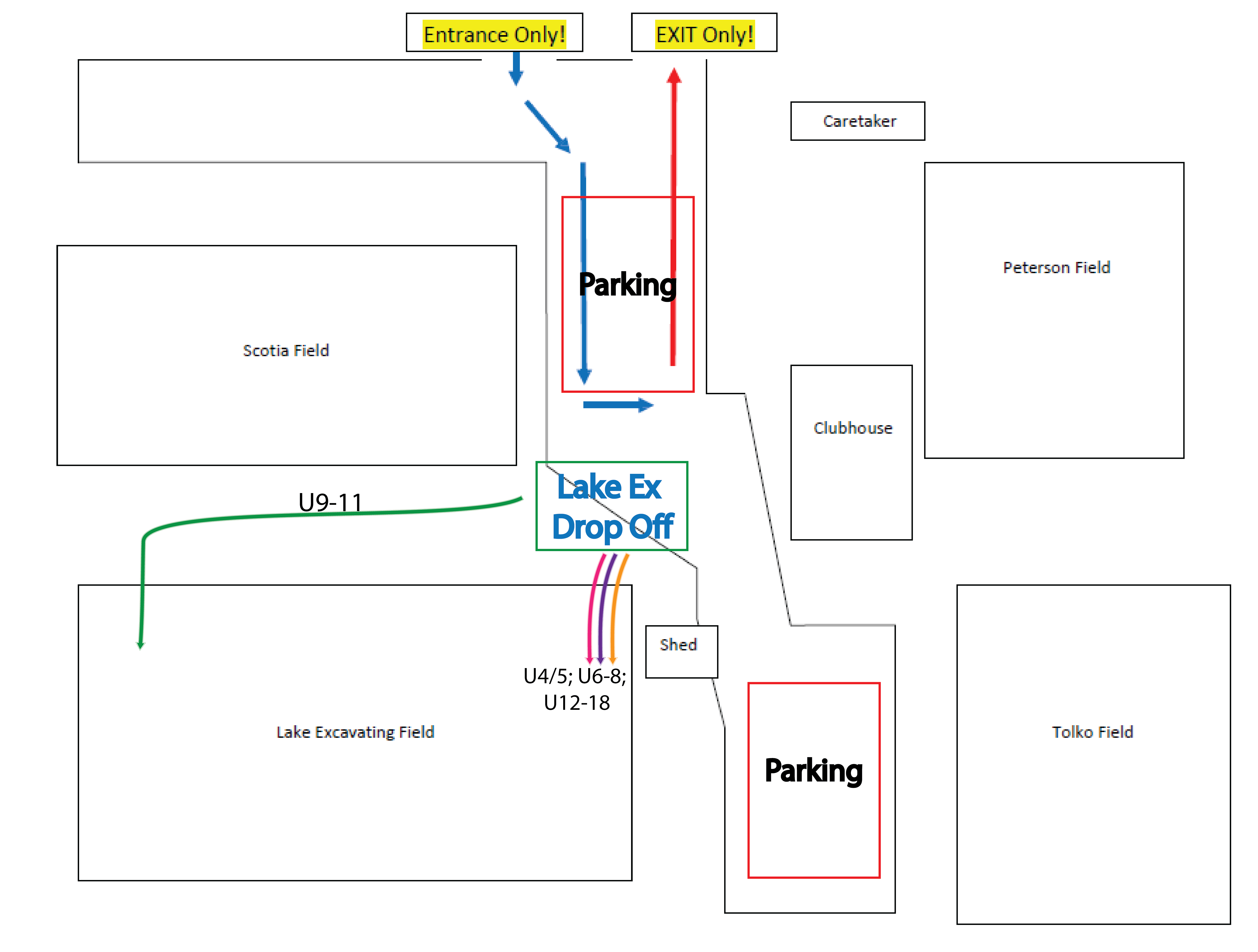 Traffic flow for Tolko Field: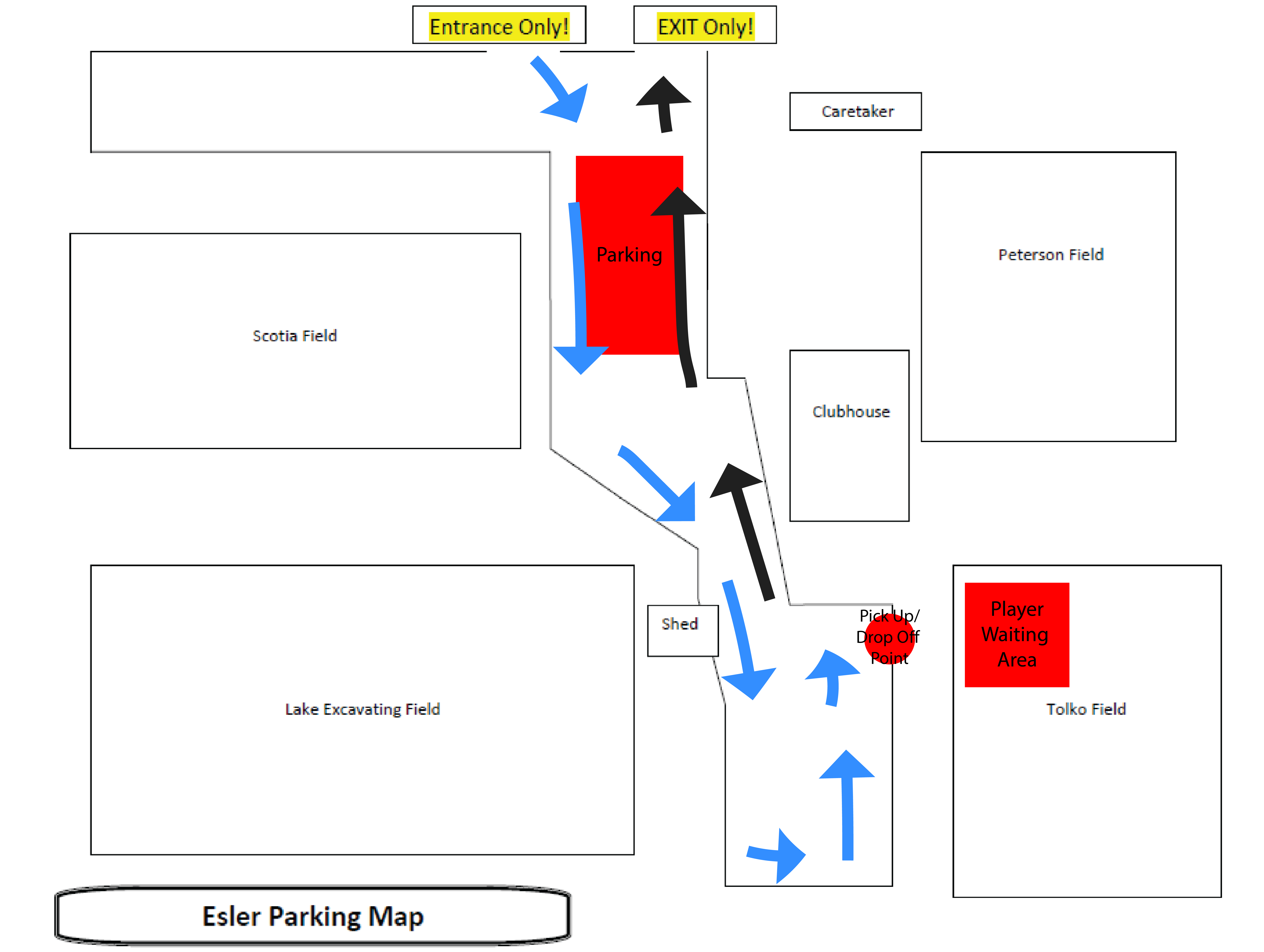 Traffic Flow for Peterson Field: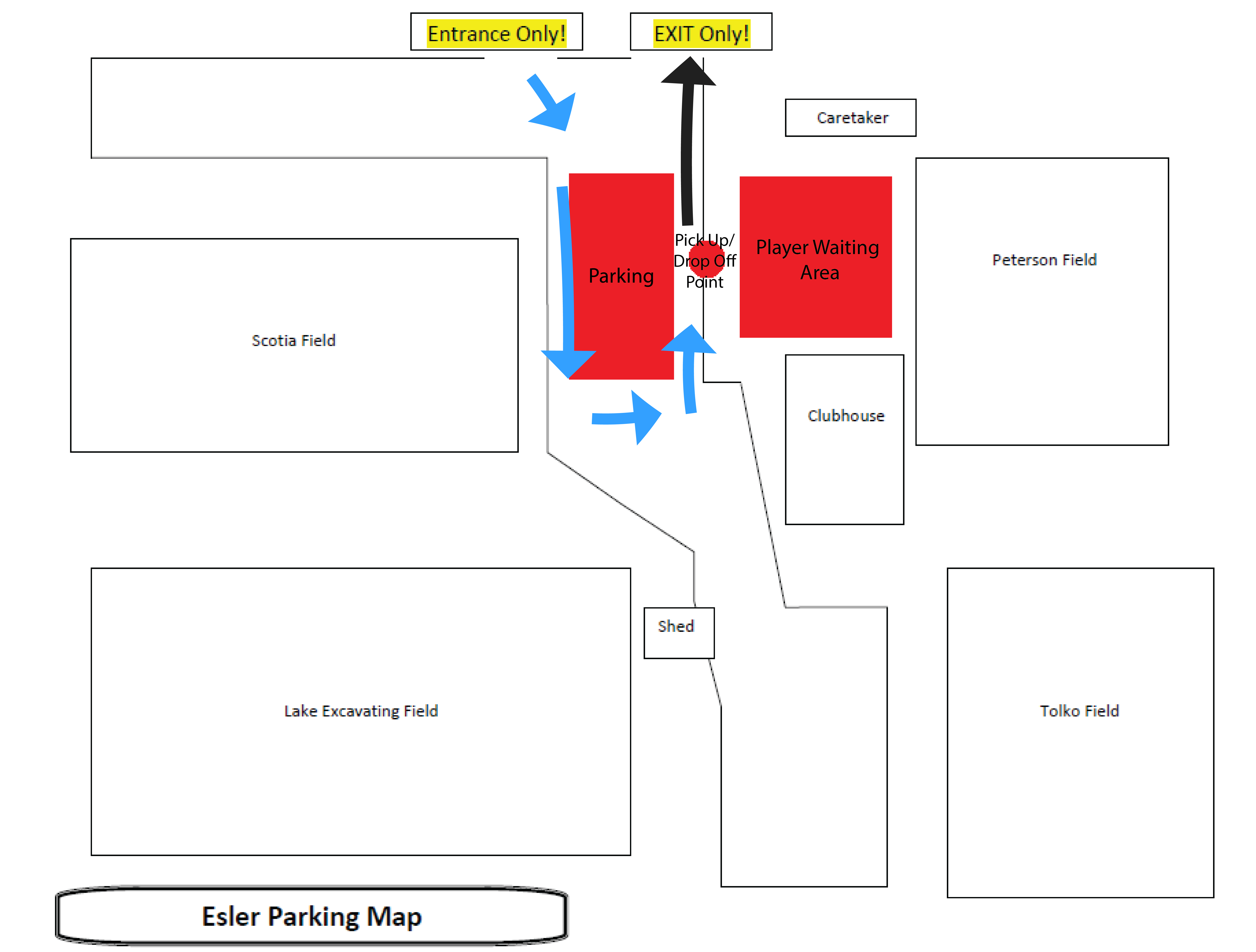 Players must only enter the field at the point indicated on the above maps. They will be provided with hand sanitizer. Players will then proceed to the player waiting area where they can drop their belongings in their designated space and be greeted by the coaches.
After the participant is dropped off, parents/guardians may park, leave the complex (for parents with children over 11 years of age) or be a spectator provided that all parents respect social distancing measures.
At the end of their scheduled practice/activity time slot, participants must immediately leave the Esler Soccer Complex. Participants will be dismissed from the waiting area as their parent is pointed out to the coaches. Parents/guardians may drive up to the pick-up point to collect their participant. Players will be provided hand sanitizer as they leave.
Restricted Areas at Esler Soccer Complex
To reduce contact among members, the upstairs of the clubhouse, the clubhouse deck and picnic tables, and the bleachers are closed to all participants.
Washrooms
Washrooms will be cleaned at the beginning and end of each day. One person at a time will be allowed in each washroom.
Attendance
All participants, including players, coaches, volunteers, staff and parents/guardians, will be recorded for their presence on field at each session in case of an infected person being identified.
Equipment
Participants are advised to bring enough water in their personal water bottles to sustain them throughout the scheduled practice/activities. WLYSA will not be providing refill stations at this time.
Participants are asked to bring their own hand sanitizer. Masks and gloves are optional.
Players are asked to avoid touching the equipment with their head and hands (other than when goal keeping gloves worn).
Player Health
All participants must read the Illness Policy that outlines procedures for participants that may be experiencing COVID-19 Symptoms.
All participants will be subject to wellness screenings by answering a wellness questionnaire or completing a self assessment when arriving at the Esler Soccer Fields.
All Participants must read and sign the Participant Agreement prior to participating in WLYSA activities. (Under 18 years of age a parent/guardian is required to sign). This will be included in the documents that require signatures during the registration process.
Group Size
WLYSA will maintain the maximum 50 person per 11 v 11 full-sized soccer field currently allowed by the B.C. Public Health Authority. The 50 person maximum includes all players, coaches, volunteers, staff, and parents/guardians. Spectators are welcome provided they respect social distancing guidelines.
Registration
As per BC Soccer and viaSport Return to Play Guidelines, we will only be accepting Online Registrations paid by credit card.
All online registrations are subject to a 4% admin/convenience fee to assist WLYSA in covering the costs of the credit card fees.
Pre-registration is required.
To register, please follow the link: http://wlysa.rampregistrations.com
If you paid by cash/cheque for your last registration and have a credit - Alexis will need to issue you a promo code. Please email admin@wlysa.com with your players name for a code.
If you paid by credit card and your credit is not showing on the players account: please contact Alexis at admin@wlysa.com
Jumpstart and KidSport Applicants
We are accepting Jumpstart and KidSport payments for the 2020 Fall Outdoor Season. As we are unable to accept paper registrations, please submit your Jumpstart and KidSport Applications, then email Alexis at admin@wlysa.com to confirm you have completed the application. Alexis will work with you to complete the WLYSA online player registration.
KidSport
KidSport Williams Lake is a group of volunteers who raise money to help athletes and families break down the financial barriers that would otherwise prevent children from participating in organized sports.
If you require financial assistance to cover registration fees, KidSport paper applications are available in the school offices in Williams Lake, at the Recreation Complex, and online by clicking the link below.
KidSport Williams Lake Website: http://www.kidsportcanada.ca/british-columbia/williams-lake/
Jumpstart
The Canadian Tire Jumpstart Applications are available at Big Brothers and Big Sisters Williams Lake.